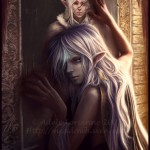 An austere mountain fortress at the edge of the mists, where the exiled Prince Luke, his servant Danathen, the wandering minstrel Semiyar, his lover Diana, and other characters sometimes reside. If you wait for nightfall, you might even catch a glimpse of their dark and mysterious host, Julian. But the mansion is also said to be a place of forgetfulness where lost things gather (or are held captive), so take care when visiting!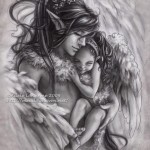 Artwork, sketches and spinoffs inspired by the "Not All Kings Wear Gold" ongoing story. Mostly old artwork featuring Fenwyn and his family, spunky little Sali, and the spotted-winged hunter Valance. Be prepared for feathers, romance and pastel colors…but there's trouble in the paradise world of Shafta!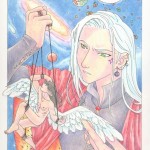 Guest Artwork and interpretations of the "Not All Kings Wear Gold" characters sent in by very dear friends and talented artists who make Kelly and me very happy. So much talent in here, and some sculptures and plushies, too!
Will be slowly updated during the following months…