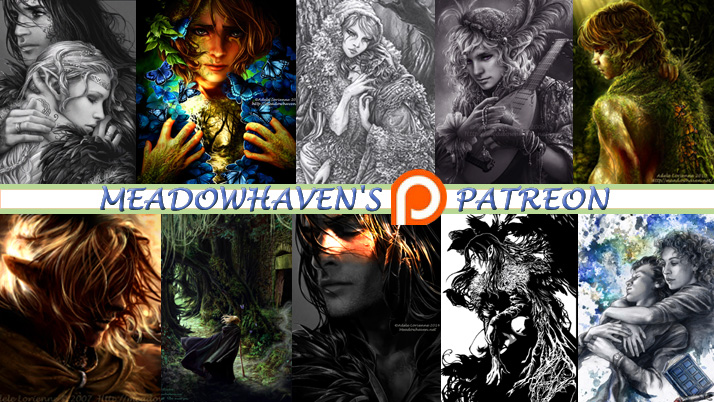 Help restore my sanity and breathe new life into my characters by supporting me on Patreon! It will mean more original artwork and story bits to share with you, and lots of patron-exclusive goodies! The quality of artwork you expect from me will continue, and the quantity and variety of artwork increase.
-By supporting me you will receive early access to all my sketches and WIPs as thanks for helping me to create them! You will also receive exclusive access to unpublished step-progressions of some of my digital and traditional artwork (both original and fanart), free hand-signed art prints, special bundles, discounts in my Meadowhaven Store, free art requests, your name mentioned in my social media sites and published in any artbooks I finish, and I will follow you back on your own sites like Tumblr, Twitter and DeviantArt because you are awesome! Other rewards also include surprise gifts and original pencil art giveaways and more! AND one very, -VERY- exclusive option that you'll have to check my Patreon page to find out. :)
-ALSO, all patrons are entered into monthly and bi-monthly drawings for custom art commissions from me! Names will be drawn randomly from my Patron list at the beginning of each month, and lucky winners will receive a free commission ranging in value from $25-$250! Hurry to subscribe before the end of February to have a chance at winning a commission in March!
-All tier 2+ patrons can also request large, hi-res and unwatermarked files of my pencil linearts to color for fun or practice! 27 different pieces to choose from (click the example image below to view all linearts):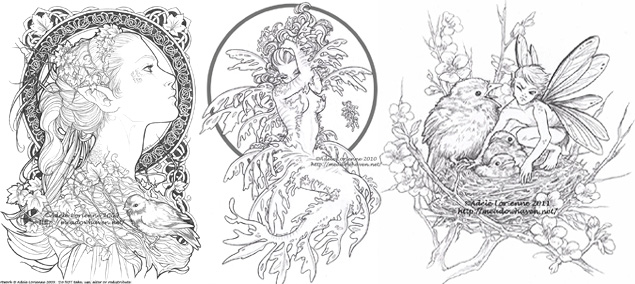 -PLUS: If my milestone goals are reached, I'll start allowing use of my original character art for personal RPG avatars–something I have NEVER allowed before! Have your eye on a painting of mine that would be perfect for your character? Help me reach my goals and I'll allow you exclusive permission to use it as a thank-you for being my patron!
-AND I will start drawing free art requests from my patrons! So you not only get your name entered in commission drawings every month, but you can also make personal requests for artwork you'd like to see from me–no limit on the number or type of requests! Don't care about original art but want to see more Doctor Who or other fanart? That's fine! Every month I will choose something new from the list and draw it! Your idea could be next! :)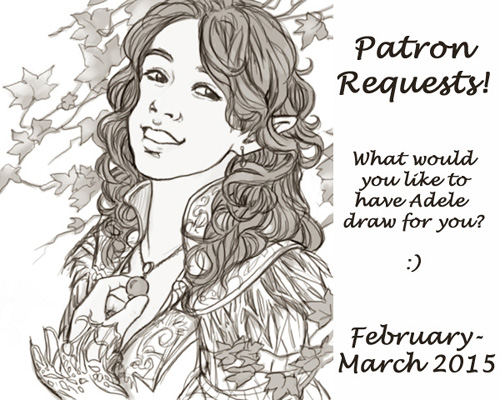 ~If you have any other suggestions for patron benefits, please let me know!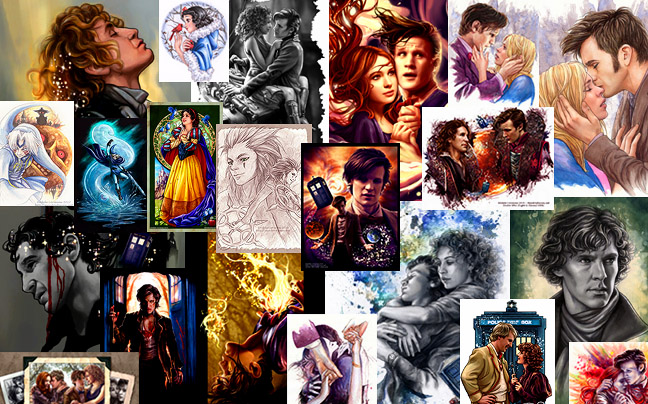 **Thank you for reading and for believing in me!**